bone
英 [bəʊn] 美 [boʊn]
n. 骨;骨骼
vt. 剔去...的骨;施骨肥于
vi. 苦学;专心致志
n. (Bone)人名;(英)博恩;(法、西、罗、塞)博内;(老)奔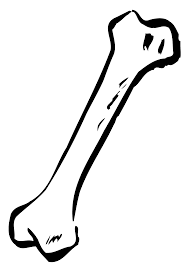 bone

bone: [OE] Somewhat unusually for a basic body-part term, bone is a strictly Germanic word: it has no relatives in other Indo-European languages. It comes from a presumed Germanic *bainam, which also produced for example German bein and Swedish ben. These both mean 'leg' as well as 'bone', suggesting that the original connotation of *bainam may have been 'long bone'.


bone (n.)

Old English

ban

"bone, tusk," from Proto-Germanic

*bainam

(cognates: Old Frisian

ben

, Old Norse

bein

, Danish

ben

, German

Bein

). No cognates outside Germanic (the common PIE root is

*os-

; see osseous); the Norse, Dutch, and German cognates also mean "shank of the leg," and this is the main meaning in Modern German, but English never seems to have had this sense.

bone (v.)

especially in

bone up

"study," 1880s student slang, probably from "Bohn's Classical Library," a popular series in higher education published by German-born English publisher Henry George Bohn (1796-1884) as part of a broad series of "libraries" he issued from 1846, totaling 766 volumes, continued after 1864 by G. Bell & Sons.
1. A vicious price war between manufacturers has cut margins to the bone.

制造商之间的恶性价格战已将利润削减到了最低。
2. Our bone marrow contains fat in the form of small globules.

我们的骨髓中含有小球状的脂肪。
3. The bullet lodged in the sergeant's leg, shattering his thigh bone.

子弹嵌进了中士的腿里,使其股骨碎裂。
4. The body is made up primarily of bone, muscle, and fat.

人体主要是由骨骼、肌肉和脂肪构成。
5. A child was wrongly diagnosed as having a bone tumour.

一个孩子被误诊为患了骨瘤.